Getting Started
"Old School" RankTank Google Sheet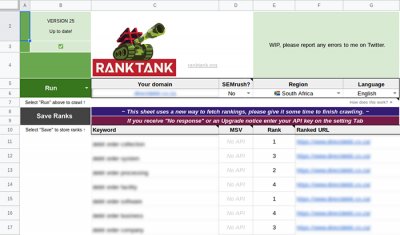 Our original keyword position tracking in a Google Sheet is still available and better than ever. You can try our original Google sheet by Making a copy of the RankTank "Legacy" Keyword Position Tool (1000 request trial). This sheet will allow you to crawl up to 10,000 keywords (the Elite version) in real-time and you can save your ranks to a new tab to compare later.
If you already have an active subscription then enter your RankTank API key on the Settings sheet to lift scanning limits imposed by the free trial.
This Google Sheet also supports the SEMrush API for pulling in MSV (Monthly Search Volume) data for each of your keywords.