Table of Contents
Getting Started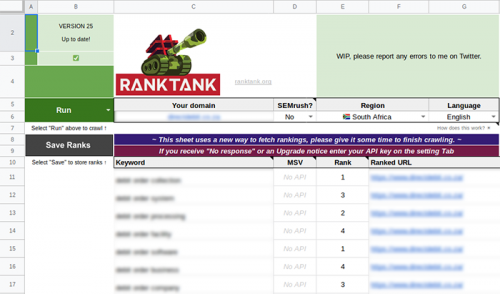 RankTank Google Sheet Add-On (New)
RankTank Google Sheet (Legacy)
Update: You can now try the Google Keyword Rank Checker Tool completely free with no RankTank account. (Just make a copy of the RankTank Google Sheet)
Just enter your domain (TLD only: "mydomain.com") and ensure the dropdown on the left is set to "Run", magically our Google SERP proxy crawls and return your rankings
.
If you like what you see then grab a RankTank subscription, you can grab a free 7-day trial here.
Once subscribed you need to get the RankTank "Legacy" Keyword Position Tool (10,000 request trial) until we launch the RankTank Google Sheet Add-On.
Our original keyword position tracking in a Google Sheet is still available and better than ever. You can try our original Google sheet by Making a copy of the RankTank "Legacy" Keyword Position Tool (1,000 request trial). This sheet will allow you to crawl up to 10,000 keywords (the Elite version) in real-time and you can save your ranks to a new tab to compare later.
If you already have an active subscription then enter your RankTank API key on the Settings sheet to lift scanning limits imposed by the free trial.
This Google Sheet also supports the SEMrush API for pulling in MSV (Monthly Search Volume) data for each of your keywords.